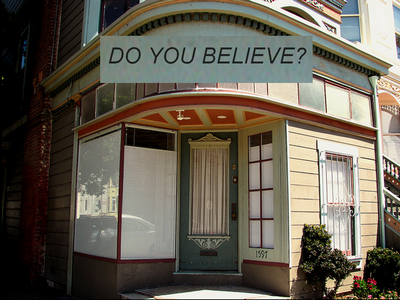 The Faith Store
At the end of the street there was a vacant lot, or it was vacant until this very morning. As if it had always been there, a small store now stood on that lot, and because of the mystery of its origin, and its sudden appearance, many were intrigued, and most within the small town entered its doors before the end of that day.
It was December 24th, and there were many who were running frantically as if they had a deadline to meet. Others seems to be enjoying the day, talking to those around them, and they seemed more content with simply being around others than those who were in such a hurry to not even notice the people who crossed their paths.
There were no bright colored lights either outside or inside the store. There was not a decorated tree, or signs that told of what savings were there for those who were in search of such a thing. There was no one in front of the store ringing a bell, nor was there a fat, jolly man to promote the store or to give added attention to this day. Yet, to many, this simply did not matter, as they moved in and out of the store. There was simply a sign on the door that said, "Do you believe?"
There were people who entered the store and immediately saw something they wished to have, a gift to give from their hearts to someone who had a special place in both their hearts and their very lives. It was usually quite obvious from the smiles on their faces that seemed to dominate the moment. The only confusion with the whole process is with those who were trying to find the one to inquire about payment for the items they found. Eventually each one finds what seemed to be the only person who was not only in charge, but the only person connected to the store. He was a kind, soft-spoken, elderly man with a constant smile on his face. And when each person asked about where to pay, they were simply told to take the item, and were told it was what you were searching for and you found it. The elderly man stated that he had everything anyone could possibly need in his store, yet they had to not only want it, but also seek it out.
Then there were those who were moving quickly through the store, bumping into people, not speaking to anyone, as they seemed lost in the purpose of their journey. Those people never seemed to find what they were looking for, or maybe didn't know for sure what it was, but they all left empty handed and never acknowledged the elderly man who could have helped them with their quest, and would have given them direction. So, they all left the store and continued to hurry, confused with their uncertainties, and remained lost with their purpose.
Those of us with faith know where to look, and what we seek, and we know whom to go to for help with all of life's concerns and problems and direction. We also understand that there are rules and guidelines that are set, and a specific path we must follow in order to find and maintain that which we seek in our daily lives. Just as within this store, all that was required to find what we were searching for was to simply ask the right person for help, and we find that our faith is exactly the same. It is not forced upon us, but if we choose it, and ask for it, is will be ours.
Vic Damico 2013
Christmas…Who Are We Honoring?
What is the purpose
Of decorating a tree?
What is the connection?
What is the point?
Who does it honor?
Why do we see the need
To sing so many songs?
Songs of bells, snow
And even reindeer
Who are we singing to?
Who does it honor?
Why does it seem that everyone
Is supposed to receive a gift?
A television, tools, dolls,
Music, toys, and games
To even tell others
What it is that you expect
Who does it honor?
Every single house
On every single street
Is flooded with lights
Each house is an attempt
To outshine the one beside it
Beautiful colors flashing constantly
Who does it honor?
Would it not make more sense
To just gather on that day
With family and friends?
To sit at the table
With a decorated cake
To share in a prayer
For a very special birth
At least with that
We would know who
We are honoring