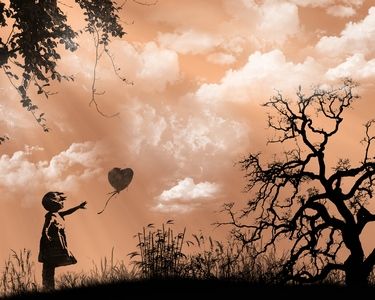 The Heart Of A Little Girl
He sat in front of the store most of the day, every day for as long as I can remember. There were holes in his shoes, and his clothes were dirty and wrinkled. His mind was not as it once was, but he knew no differently since his understanding had vanished with his mind. He wore a baseball cap that seemed as old as he was, and on the bill of the cap was a pin that read, "God, bless you." The old man was always smiling, never giving the impression that anything was wrong in his life. Everyone knew of him, but no one really knew anything about him. They called him Jack because that was the name on the shirt he would always be wearing. It was never known for sure what his name actually was.
Each and every day, as people passed him, he would smile and say good morning, good afternoon, or sometimes just say hello. He spoke to everyone, no matter who they were and generally people would speak to him. On that morning, about a week before Christmas, several people got together and had a talk about him. It was common knowledge that he had never asked anyone for anything, and that made many wonder just how he survived each day for such a long time. The community decided that it was simply wrong to allow his existence to remain so shallow, and that maybe they needed to take action to make sure he was given better care than what is the case at this point.
Several people confronted him all during the day. Some offered to get him something to eat, some offered him money, and some even offered to take him to buy him clothes. The owner of the store even offered to allow him to stay in the room in the back of the store. With every offer, Jack said thank you, but I do not need anything. No one really understood his reaction, and became even more concerned, but there was really nothing they could do. You cannot force someone to accept your gifts.
So, Jack just sat there in front of the store, as usual just passing the day. Later in the afternoon, a little girl walked by Jack and she spoke to him before he got a chance to speak to her. This was unusual to Jack, because usually he never heard a word unless he spoke first. The little girl asked him his name, and the one who was known as Jack told her that his name was Elton. She told him that her name was Emma, and she sat down beside him. They talked for about an hour and Emma promised to come back the next day to see him. There was a big smile on Elton's face as the little girl walked away. It was the first time in years that someone had actually talked to him and he seemed quite overwhelmed by the gesture.
Days passed and Elton had not heard from Emma since their first meeting, and his heart felt quite heavy. He had been accustomed to not getting real reactions from most people, but he had honestly believed her to be different. She was the only one who took time to talk to him and to really listen to what he had to say. He wondered if he would ever see her again.
It was Christmas morning, and as any other day, Elton sat in front of the store. Everything was closed, so he was on the street alone with no one else anywhere in sight. He held his head low and for some reason felt alone on this day.
Suddenly, he felt a tap on his shoulder and he raised his head to see who had tapped him. It was Emma and she just smiled and sat down beside him. She told him that she was sorry for not coming back to visit as promised, but stated that she had been busy trying to do something. She then reached into her coat pocket and pulled out some index cards wrapped in a rubber band. Emma told Elton that she wanted to show him something, but he could not say anything until she was finished. Elton smiled and promised to just listen.
Emma proceeded to tell him the following…
This card is from the owner of the hotel. It is a promise that you will always have a place to live. This card is from the store behind you. It says you will always be able to come here to get groceries whenever you need them. This card is from Mr. Wilson's store. It says that whenever you need clothes, you will have them. This card is from the diner. It says you can always have something to eat. This card is from the barbershop. It says you can always go there when you need one. This card is from the doctor's office. It says you can always go there if you do not feel good. Emma then took the cards wrapped the rubber band back around them and put them into Elton's hand. She then hugged him and took his hand and helped him to stand. Emma told him that her family is waiting for them and that they wanted him to spend Christmas day with them.
So Emma and Elton began walking down the street, hand in hand toward he house and Emma stopped, and reached back into her coat pocket. She removed yet another card and took Elton by the hand. This card is from me. It says that you can always be happy.
Vic Damico