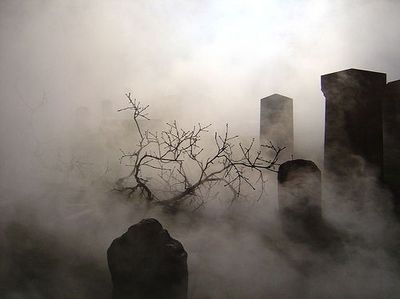 A Day That Should Not Have Happened: A Short Story: (WWE, 10/16/13, Boot Hill)
October 31, 1873
Where I said I would never be:
A light mist seemed to dance in the distance as it moved slowly but steadily toward where I was standing. I tied my horse to the metal gate that led to a place that I swore I would never visit. Out of respect for where I was, I removed my hat before entering the gate. Cemeteries are something that I have always avoided; yet on this day, I felt compelled and even obligated to pay my respects. The mist continued to grow and I noticed that in the pale light, I literally could not see my boots when I looked down. I moved slowly, because of the mist that made it impossible to see where I was walking.
Why I was here:
Forty years ago, to this very date, my life was changed forever, and I was daily haunted by a revelation of a situation that simply went wrong. I was in a saloon playing poker with complete strangers, which is not always a good choice, especially when drinking alcohol. About an hour into the game, I had witnessed the man sitting directly in front of me dealing from the bottom of the deck. I had seen his trickery two times, and with the third, I could not remain silent any longer. I stood, looked the man directly in the eyes and spoke to him of what I had seen. In one motion, the man stood, already with his gun drawn and pointed his weapon at me. I responded by kicking the table and it distracted him just long enough for me to pull my revolver and to fire a bullet into his shoulder. He fell to the ground with the nonfatal wound, and I stood over the man with my gun pointed at his head. He raised his hands in a gesture of surrender. The moment was interrupted by the sound of the loudest scream that I had ever heard coming from outside. My bullet had passed through the man's shoulder and struck a child in the street as she walked with her mother. She died in the street before me. I had spent the last thirty years in jail for the incident. After ten years, I set out to do what I believed was the right thing relating to that day so long ago.
Boot Hill Cemetery:
After making my way about halfway through the cemetery, I noticed one grave that was completely in the clear and the mist seemed to be everywhere other than around that plot. With a combination of curiosity and feeling compelled to move closer, I found myself standing at the end of that gravesite. As if appearing from nowhere, suddenly there was a vision of a man sitting on the tombstone at the head of the grave. It was the sheriff who had taken me into custody and held me in jail for so many years. He merely said that he did not want any trouble, and immediately after the statement seemed to vanish before my eyes. The mist suddenly became thick again around me.
I move further into the cemetery, and once again, I spotted a gravesite that the mist seemed to avoid. I walked closer and as I got there, a man stood there, as if he had been waiting for me. As I got closer, I saw that it was the man who I had shot because of his dishonesty with the card game that day. Still, I had not said a single word. The man proceeded to tell me that he had been cheating at cards and he probably deserved what he got. He also told me that it was the last time that he cheated with the game. And as happened with the sheriff, he vanished into the growing mist that once again filled the area where I stood.
I began walking again, and this time I actually looked for an area that seemed to have a void from the mist that filled the cemetery. It did not take long as I witnessed the mist fade as yet another gravesite came into focus. This time it was much different. I could hear screaming angry voices in the distance, and once I got closer, I understood perfectly. The two individuals who were screaming and waving their hands in the air were the parents of the little girl that I had shot. My heart felt like it would stop; I cannot imagine the anger they must feel toward the one who created such a void in their lives. Still, I felt compelled to move closer. Finally, I was within only a few feet of them and I just let them aim their anger at me, and it was justified. I stood there for what seemed hours, letting them target forty years of anger at the one who took their little angel from them. After a while, knowing they did not hear me, I said with tears in my eyes that I was sorry, and I moved on my way. As I turned to walk away, the screaming stopped.
Dealing with the pain of silence:
As I walked further into the darkness of the cemetery, I relived that horrible day over and over in my mind. My heart felt weak. With each step that I took the depression seemed to grow as quickly as the mist before me. I wondered to myself how I would deal with that day if I had another chance. The heaviness of the last forty years was upon me, and the pain was unbearable.
A revelation:
As I looked into the distance, the vision before me was overwhelming. The mist that filled the cemetery seemed to move quickly toward the middle and formed as a funnel cloud reaching far into the night sky. Full of fear, yet compelled to move toward the site, and as I reached the origin of the funnel, it vanished as quickly as it had formed. I stood at a gravesite with a tombstone that read, " An Angel Who Was Taken Away From Us." Tears flowed from my eyes and I dropped to my knees as if I had no strength left within my body. I closed my eyes and prayed for forgiveness for my actions.
I felt a hand on my shoulder. I opened my eyes to see the little girl that I had killed standing before me. She was dressed just as she was on that day forty years ago and she was smiling at me. She told me that she knew that I did not mean to hurt her, and that she had never felt any anger that was directed to me. She handed me a red rose and told me that everything was going to be just fine. And with that, she vanished before my eyes, and I felt a peace that had not been there for a very long time.
Vic Damico 2013