I haven't read a book this entertaining in years.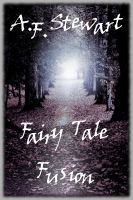 It starts out with fairy tale news reporters telling the news like it is in fairyland. Sadly, two of the three Pig brothers were murdered by the remaining Pig guy. Then, more news.
Her story moves over to the Metro Police detectives relating how they solved some of the latest local murders and mayhem. Then, breaks to a commercial.
The second part of this book is freaky stories—extremely freaky with a dash of nightmare stuff.
Dark humor—yes, but it's hard to make me chuckle and I chuckled all the way through it.
Like I said, this is the most entertaining book I've read in years. Something completely different, unexpected, and if I could, I'd give it a 5++++ rating.
It's presently available as a pre-release on Smashwords.
If that link doesn't work, then use this one: https://www.smashwords.com/books/view/356889
Her video is on Smashwords, but I managed to get it in my blog: http://pambrittainhomepage.blogspot.com/