PIRATES OF THE MEDITERRANEAN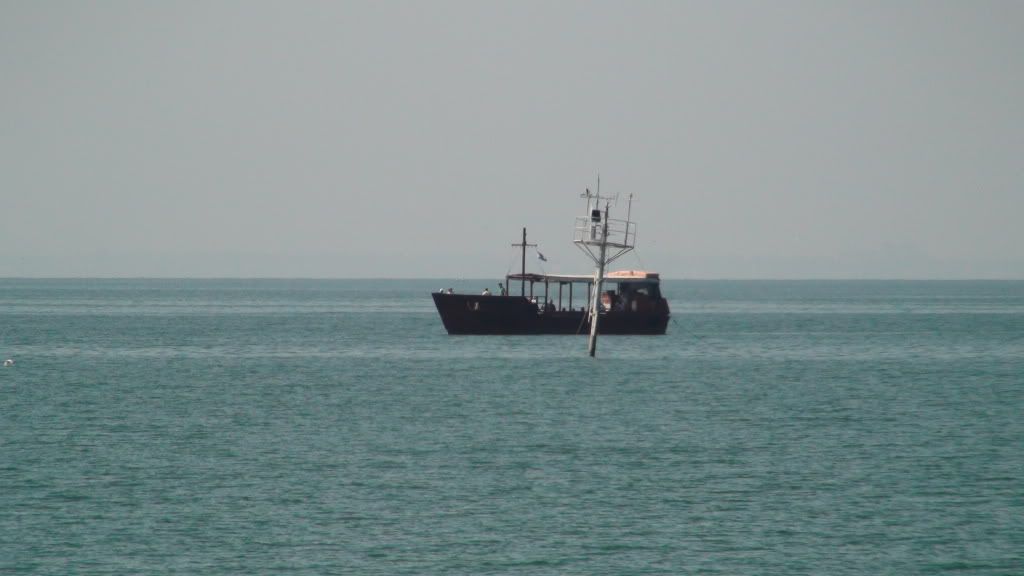 My ancestors of the Roman era were floating on a calm sea, not a puff of breeze filling their small sail. Hours had passed since they had raced from the beach of Pompeii, and as Pliny the Elder was to later recall there was barely a breath of air out at sea that day. Then came a night of suffering, though night and day were barely distinguishable, the cascade of volcanic ash high in the skies reducing day to a kind of pseudo-night and night to a deeper black, that ended with the semi-dawn of a sky still burdened with ton after ton of ash and pumice.
The sea was calm and the huge billowing black mess that was the eruption from Mount Vesuvius hung like a gigantic devil in the skies. Owongus and the young female escaped slave Mirumtia were trapped by air that was as still as air can be. They were adrift on the Mediterranean, and they were slowly discovering that there's something cruelly ironic about being thirsty and lost on all that water.
Both Owongus and Mirumtia, having been becalmed for what seemed like days, were, suffering the dreadful agony of a slow approach to death. When they breathed there was dry ash in the air which made things worse. Their mouths were sore, their tongues swollen, and both knew that unless things changed for the better pretty quickly then they would both die. And the mischief of it was both of them felt so bad they actually wanted to die.
Cut to the small rowed vessel lurking just within sight of them on their boat. Well, in truth, it would only have been in sight had one of them been looking, but as both of them were lying on the rough wooden floor of the hull neither of them was in a position to see anything except for their own misery.
"I'th gonna die..." moaned Mirumtia.
"Do'n … do'n d-d-die," stammered Owongus, who had never stammered in his life before. "Le' me die firs'..."
Mirumtia's eyes rolled. Her head throbbed. Her tongue was almost gagging her. Owongus saw the way he was and might have wept had his body any surplus fluid with which to perform such a feat.
Cut to the small rowed vessel, not so far off and moving rapidly closer.
"Thish ish it..." groaned Mirumtia, ignorant of its approach.
"Thish ish … nothin'." gasped Owongus.
He reached an arm feebly towards her and touched one cheek. "I'm shorry..."he struggled to say.
"Ish not your … fault," she breathed, and would have forgiven him had she been able to acknowledge there was anything to forgive him for.
"What we got here, lads?" crowed a new voice, a rough voice, an uncouth voice owned by one Scarface of virtually no renown.
What Owongus and his companion might have known and what has been largely lost to history as such things can be, there was a band of pirates complete with a motley selection of old vessels that occasionally sallied forth robbing those who dared pass their small bay on the south coast of what would one day be called Spain. This band of ne'er do wells and vagabonds sometimes ventured great distances in search of riches, though they hardly ever found anything worth taking because anyone carrying anything of value knew they were there - and subsequently used faster, sleeker vessels or, failing that, went by land. But they made a living of sorts, and the three men in the small rowing vessel were on their way back from an unsuccessful expedition towards what would one day be called Italy when they had spotted a feeble sail on the horizon.
"There's two sad wretches in this thing," growled a second voice.
"Let's 'ave a look, Poo-face," bellowed the third.
"Take your turn!" retorted Poo-face.
"I'm in charge!" commanded Scarface, the first speaker. "Who're you?" he demanded of Owongus.
"Blah-blah-blah," replied Owongus, the power of speech having just about completely deserted him.
"He's a foreigner," suggested Poo-face, with the uncanny intuition of the ne'er-do-well.
"There's a bird 'ere too," pointed out the third ruffian, a character by the name of Heartless on account of his inability to sympathise or empathise with anyone or anything.
"She alive?" asked Scarface.
"I reckon she is and I reckon as I saw 'er first I should be the first to 'ave 'er" suggested Heartless. "I ain't 'ad a bird since I can't remember when!"
"There's your woman back at base," pointed out Poo-face.
"I'm never gonna 'ave 'er again," growled Heartless.
"Then I will," chuckled Scarface.
"You're welcome, mate, if you want spots on your willy," grunted Heartless.
"What we gonna do to these two?" asked Poo-face, who already had spots on his.
"They're all but dead," pointed out Scarface, "An' if you look at 'em you can tell as they're slaves of the gents in Rome! That makes 'em valuable goods! We'll feed 'em up and then see what the toffs will pay for' em! Might make a bit, they might. Enough for a few quarts o' foreign booze, anyway!"
"Let's take 'em!" agreed Poo-face.
"An' their boat," put in Heartless, "we'll tek that, an' don't forget, |I'm the first to 'ave the bird!"
© Peter Rogerson 03.08.12