THE MAKER'S COMMANDS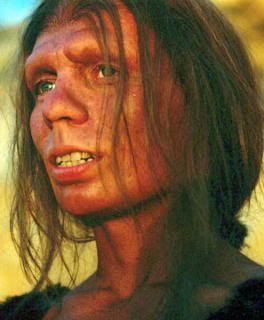 There's nothing more likely to give a man a headache than him falling on it from a great height in the dark, and that was true back in very prehistoric times just as it's true today.
And my ancient Neanderthal ancestor Owongoo did just that he fell, in the dark into a crevasse in an almost totally dark tunnel just as he was approaching what looked like the end of it, and he fell straight onto his head.
The daylight (or the grey smudge of it he'd been aiming for) popped out of being, as did any thought he might have had (like oh, no I'm falling … I hope it isn't too far) and he lay smack where he'd fallen blissfully unaware of anything, not even of the oozing stream of blood pouring from a gash on his head, and certainly not of the family of small rodents that he'd disturbed by landing on them.
And he lay still. He lay almost as still as the dead might lie, but mercifully not quite.
And as he lay there in a state of motionless rigidity, far off where she lay in her bed, his delightful wife Mirumda was weeping.
She had been married (if married was the right word – there'd been no ceremony and she'd only really agreed to a clandestine shag) to Owongoo since she was about twelve years old. It wasn't uncommon for girls that young to start living with their life's partner because by the time they'd bred and brought their own children up they were approaching their grim dotage, as she and Owongoo were, and preparing to meet the grim reaper of their legends. By the time they reached their early to mid thirties they were mostly dead.
But despite the lack of formality of their lives together she had learned to love him. It was quite simple, really. He was a man and so had his faults and she was a woman and consequently didn't. But she could admire him for the way he persevered with life, and there was nothing better than waking up in the morning and knowing he was there with her, ready to face another day and the mysteries it might hold.
That was why she was weeping. Owongoo hadn't come home, was out somewhere hunting for supplies to see them through the winter, and he hadn't come home when he said he would. And he always did that: he always struggled against whatever odds opposed him to arrive back on time.
She knew the dangers, of course. Everyone did. Homo Neanderthalensis wasn't alone on the world. There were other creatures, less intelligent but immensely more powerful, who could easily dominate a man in a fight. And those other creatures got to be just as hungry as people did. If Owongoo ever met a really hungry panther, for instance, he would most likely be a goner. It was the pact men made with the wild every time they ventured forth on their own.
Doreena was in the cave, looking sorrowfully at her weeping friend.
The main problem with Doreena was the addiction she'd developed for a spiteful kind of hallucinogenic mushroom. It wasn't the mushroom, though, so much as the insanity it pushed into her head and she really believed that the gigantic pink rabbit that had visited her on many occasions by now was as real as a rock or a river was. And right now she was gently chewing on a dried wad of the fungus, for strength, she told herself, for wisdom, for the skill to say exactly the right words in troubled times.
"Why, hello Great Builder," she said, delightedly, when he popped out of thin air to stand next to her.
"Owongoo has sinned," muttered the monstrosity into her ears and I suppose it was a blessing that only Doreena could hear it.
"He has?" she gasped.
"He has seen your flesh, dear lady, sweet Doreena," crooned the gigantic pink Great Builder. "His eyes have taken in your most secret parts and that is sin. It should never have happened, and so he is being punished. He lies, even as I speak, on the uppermost crag of the highest mountain so as to be close to my palaces, and he is screaming as my torturer cleanses his mind. Make sure, devoted Doreena, that no man sees your wobbly bits! For if he does he must suffer."
"So many did in the old times," she shivered. You will recall, of course, that she had spent her younger adult years being both a porn star and a prostitute, and as such most of the men of her home settlement had some kind of visual experience with her vital parts.
The Pink Rabbit morphed into a pink monkey and shook its head. "So many must be punished," it whispered, "and you, dearest Doreena, must be my instrument!
"You must be my tool, and bring the sinners to their knees in pain and loathing, for I have spoken and I am your great Creator!" It nodded sagely and returned to being a rabbit.
"Sweet Maker," she burbled, "so it shall be … so it shall be."
And as she bowed her head in humility and supplication, tears streaming down her own face now that she had heard her orders, Owongoo staggered through the doorway, his head a mass of bloody stains and his eyes almost glazed.
© Peter Rogerson 08.07.12