OWONGO'S PREHISTORIC FUNERAL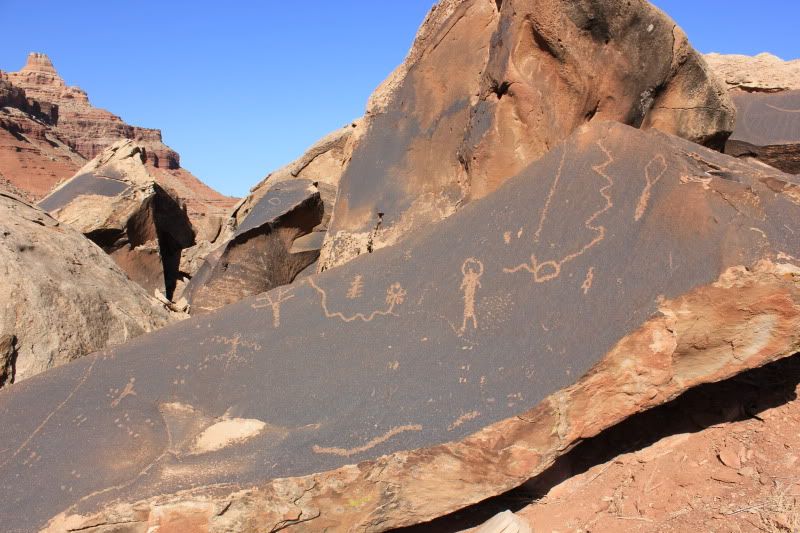 The day Owongo died there was a great deal of mourning and gnashing of teeth in the settlement somewhere in what would come to be called central Africa in the dim and very distant future. Owongo, you will recall, was a very distant ancestor of mine and he lived where all those on their way to becoming humanity lived. The people all gathered around the Mourn Hill where his last mortal remains were laid on a slab of cold stone and above which a flock of vultures circled in their own particular dance of death.
"We all die," muttered Gidnut, one of the wisest men in the tribe. "We all are born, we all shag and we all die. That is the way of things, and it is a good way..."
"Owongo told," whispered Umpala, a girl in her young years, "Owongo told of the lands of the gods where we meet when the vultures have pecked and our flesh is gone. Owongo told of the meetings we will have with those of our loved ones who have gone before us."
"Owongo told of many things," hinted Gidnut. "He was a man of words, was Owongo. A man of great faith."
"He was a man of truth!" declared Impata. "He was my man!"
"But he will be with Mirumda now," sighed Gidnut, pointedly. "Mirumda was his woman for untold ages, for most of his grown life. I recall when they first met. She was little more than a child..."
"Yet not a child," whispered Umpala.
"No, not a child. But little more than one," insisted Gidnut, "and she loved him that first meeting and she loved him every day of their lives together, and she bore him five offspring, though some of them died, as is the way of things."
"He was my father," put in Owongo Junior, "and we loved him, for he was a good man. A good man, and honourable, and he told tales that would warm the coldest heart even in winter."
"Say more?" suggested Umpala, and Owongo Junior was pushed to the front of the small gathering by all who stood near him.
"He was a good father," repeated Owongo Junior, "and no man can say better of a father than that. Yet when we were kiddlings he would gather us about him and tell us of the gods. He knew the gods, all right, all of them and by name. He drew their images on the cave walls. He was a great philosopher, was my father." It had been a long speech for Owongo Junior, and he paused and looked about him.
"And now he will be with Mirumda?" suggested Gidnut.
"So he believed, or said that he believed," sighed Owongo Junior, "he said that when we die the gods take that which is within us, the very truth of us, our vitality, our essence, be it good or bad, and they sit us at their sides, men and women who have passed beyond the Mourn Hills. And he said they cast those who were selfish and devilish in life out, away from their mighty caves in the skies, and those who are cast out fall for all eternity through the abyss, never reaching its bottom, and never saved..."
"So he said to me," whispered Impata, "but the truth he told gave me faith … it gave me hope when I lost our baby..."
"Owongo will be with that little one even now," whispered Owongo Junior, "for look: the vultures are venturing close. They will consume his flesh, his cold, dead flesh, and they will soar into the skies with it, for that is the way of things. It comes to us all, living now, for all of us will die. There can be no escape except in faith."
"What faith?" asked Impata.
"That my father's words were true!" almost snapped Owongo Junior. "That, when he lived, the gods gave him enlightenment. For he loved Mirumda more than he loved any other woman..."
"I know," whispered Impata, "for he told me, and I accepted it. Yet I had his baby..."
"His dead baby!" corrected Owongo Junior. "And there was doubt..."
"It was Owongo's!" wept Impata, "though I suspect he never believed it. But I lay with no other man..."
"So he will be with that child even now, as we speak," put in Gidnut, needing to lighten the sudden tension that had taken hold of the debate. "And he will cherish his lost son..."
"He will be one with him," sighed Owongo Junior. "That is what I believe, for my father told me, and I have no notion of any truth from before I was born except that which my father spoke in life to me, before he died."
"And he spoke great wisdom," sighed Impata.
"He spoke of the great halls for the dead above the skies," whispered Owongo Junior, "and that is where we will meet him, one day, when our own turn comes."
"I will meet him now, my love and my hope," shrieked Impata, and there and then, in front of the funeral crowd, she plunged a long and shining shard of glinting flint deep into her own living flesh where her breast was and where her own heart throbbed, and then she fell slowly to the stony floor of the Hill of Mourn, bleeding her broken life out, the most beautiful face yet to grace the Earth, and dying where she bled.
© Peter Rogerson 20.05.12