OF HEAVEN AND STUFF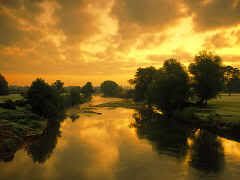 It was a beautiful day and both Owongo and Mirumda were down by the river's edge, dangling their legs over the bank so that the water swept over their feet. The sun beat down relentlessly from a blue sky unmarked by even the fleetest of clouds.
"What I need to know," murmured Owongo's almost disfigured wife, "what I want to know is where we go when we die? I mean, we are taken to the Mourn mountains and left as foodstuff for wild creatures when they go hungry, but is that all? Do our eyes see no more? Do our ears hear only silence? Are we lost to the fragrance of sweet spring flowers...?"
"Mirumda almost poetic!" exclaimed Owongo. "But Mirumda knows eyes pecked out by eagles can't see!"
"But where do we go when we die?" mused Mirumda, who was getting on in years, being a month short of thirty and therefore close to the death she was beginning to fear.
Owongo sighed, and thought for a moment. "We go beyond the stars..." he began, knowing he was making it up but needing to comfort the woman he was sure he loved. "There is a great light up there, where the stars shine, and if we are good we go up there. So it is said."
"By whom?" enquired Mirumda.
Owongo looked at her a little savagely. "Owongo say," he insisted, "Owongo a man and so cleverer than any woman, even Mirumda."
He often said things like that and Mirumda knew it was no more than nonsense, said because he needed reassurance. Mirumda was a wise women even back then, at the dawn of time, before humanity had walked beyond the plains of central Africa.
"So where will Mirumda go?" she asked, tentatively.
Owongo sighed. "Mirumda will go above the stars," he said, gravely, "but not yet, because Owongo loves his Mirumda. He loves her very much and needs her here, by his side."
"But when my time comes..." insisted Mirumda, "when the gods take me like you told me they would, when I am dead … where will those gods of yours take me?"
Owongo sighed again. "There are gardens," he said, "and pastures on the sun where foodstuff runs freely for a man or his woman to easily catch. That's where we go, to live on the pastures on the sun!"
Mirumda shivered, not from cold but from fear. "It's hot enough here, with never a cloud in the sky," she murmured, "and Mirumda needs a river to splash with her hot and sweaty feet. Are there rivers on the sun?"
Owongo was stumped for a while, then his eyes lit up. "You know when the morning sunlight shines on the river and turns it to the colour of buttercups?" he asked.
Mirumda nodded.
"That is what the rivers on the sun are like: flowing streams of yellow, like buttercups."
"And will they cool my feet, Owongo?"
"They will cool anything, for they are powerful rivers! There is magic in them, magic enough to make Mirumda's feet cool and clean!"
"Then that is good," sighed his wife. Then: "is there air on the sun, to breathe?" she asked.
Owongo looked at her, his eyebrows raised.
"Of course there is!" he exclaimed, "else how would the gods breathe?"
"Do the gods need to breathe? I mean, you said the gods were magic," she pointed out, "and magic can do anything, even go without breathing!"
"No, it still needs to breathe," snorted Owongo.
"So when I die I will be with yellow rivers and have air to breathe?" asked Mirumda. "How you know all this, Owongo?"
"Owongo a man and men know everything," retorted her man.
"And it will always be true," she sighed, "Always, always, always!"
Owongo nodded.
"Then, man of mine, I can die in peace," she whispered, "and I feel inside me that it may come soon. Now you tell me stuff I want it even sooner!"
Owongo shook his head. "But Owongo need Mirumda," he said, quietly. "Owongo ..." he struggled for the right word, "Owongo love Mirumda."
© Peter Rogerson 08.05.12