CARACAS, Venezuela.  With the start of baseball season just days away, Venezuelan President Hugo Chavez today threatened the United States with an embargo on the export of shortstops until his countryman David Concepcion, a five-time Gold Glove winner for the Cincinnati Reds' "Big Red Machine" teams of the 1970's, is inducted into the Baseball Hall of Fame.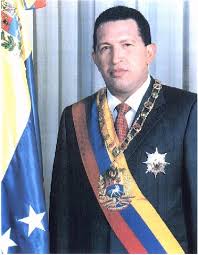 Chavez:Â  "The big medal is for Most Improved Right Fielder."
"Venezuela produces the world's most beautiful women and the best shortstops," Chavez told a cheering crowd at the presidential palace in Caracas.  "Let the Yanqui oppressors try to get by with their pathetic little David Ecksteins and Freddie Pateks."

Freddie Patek, world's shortest shortstop
Chavez once took out a full-page ad in USA Today touting Concepcion's Hall of Fame candidacy and praising other Venezuelan shortstops such as Luis Aparicio and Miquel Cabrera.  The socialist dictator has become increasingly eccentric over the past few years, calling for an end to presidential term limits and ordering the nation's clocks to be moved forward by a half hour.  "He kept missing the Web Gems segment on SportsCenter," said Marvin Schaeffer, who covers Latin America for The New York Post.
In addition to shortstops, Venezuela is a major exporter of petroleum, which is marketed in the United States under the "Citgo" brand.  The company is perhaps best known in America for the sign in Boston's Kenmore Square that is visible to spectators in Fenway Park.
Conspiracy theorists have speculated that Chavez uses the sign to disrupt the play of non-Venezuelan infielders such as Boston second baseman Dustin Pedroia, who has developed "Garciaparra Syndrome," a disorder characterized by obsessive fiddling with batting gloves.  Chavez has issued perfunctory denials of that charge, citing the writings of left-wing linguist Noam Chomsky as evidence that America is to blame for the designated hitter rule.

"You think I'm wacked--read some Noam Chomsky."
Democratic Senator John Kerry issued a statement deploring the failure of the Bush administration to maintain sufficient shortstop reserves, saying "When I was a boy growing up watching Eddie Yost play shortstop for the Red Sox, whom among us would have thought that America would ever lose its position as the birthplace of the world's greatest 'hot corner' men?"   
In the 2004 presidential race Kerry lost several swing states when he identified Yost, a third baseman who played for the Washington Senators, the Detroit Tigers and the Los Angeles Angels, as his favorite Red Sox player.
Available in Kindle format on amazon.com as part of the collection "This Just In--From Gerbil Sports Network."